About Debra Young
I completed my Master's degree in Clinical Psychology at Antioch University in 1987. My career within the Mental Health System ultimately led to a three year position as a Clinical Supervisor for a Mental Health Center in Alaska. Although it was exciting to be involved in the improvement of mental health service delivery, I found that I missed having direct contact with clients. I eventually returned to my original roots of helping people discover their potential and realize their dreams.
I bring a heartfelt and genuine approach to the counseling relationship, and respect and honor the uniqueness of each individual. I look forward to the opportunity to work with you.
My Approach to Counseling
I believe that all people have the potential to learn, grow, and relate to others with openness and joy. I believe that inner dissatisfaction, life change, or painful events, invite all of us to move deeper into ourselves, to attend to our feelings, to discover our strength, to embrace our humanness, and to understand what we value. From this exploration, we develop a foundation for accepting our lives and healing our hurt, thus freeing our energy to transform our discomfort, pain, and loss into new possibilities.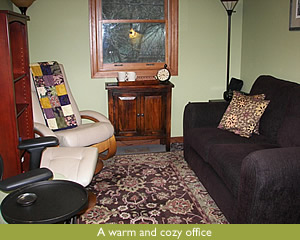 With understanding and genuine caring, I provide a safe and confidential environment to support you through the process of self-discovery. From my experience and training I offer tools and resources along with encouragement and gentle challenge to help you make positive changes in your life. I believe that healing and insight can happen in the office, but that change occurs through practice in the real world, and within current relationships.
I believe the comfort of the therapist and client relationship is important to the success of the therapy process. For this reason, I offer a free 30 minute consultation for those seeking counseling services.